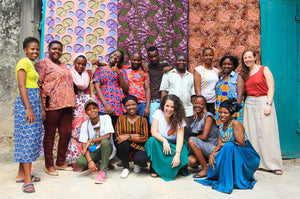 Collection:

Endelea
Endelea is an ethical fashion brand founded in Milan in 2018 to create clothes and accessories in African wax fabrics with a made in Italy design.
Behind the name Endelea, Swahili for "to move forward, to continue without giving up", there is a group of dreamers guided by passion and courage who believe in creativity, connections and empowerment.
Instead of just purchasing beautiful fabrics to be sewn elsewhere, we buy and produce in Dar es Salaam, between local markets and a workshop we created together with Tanzanian tailors and dressmakers. By sharing resources and knowledge, we truly empower people and create durable progress.